Christ himself gave the apostles, the prophets, the
evangelists, the pastors and teachers, to equip his people for works of service,
so that the body of Christ may be built up until we all reach unity in the faith
and in the knowledge of the Son of God and become mature, attaining to the whole
measure of the fullness of Christ.
(Ephesians 4:11-13)
At Faith Community Christian Church, our pastors act as leading
elders of the community. We have called them from all other work and support
them so that they might exercise their God-given roles as shepherds by focusing
on the disciplines of prayer, the study and teaching of Scripture and spiritual
counsel. We provide mutual accountability for them and keep them in our prayers.
---
Pastor Ted Ng
Lead Pastor
"Father, husband, pastor, leader and friend." Ted is married to Eudora, has two sons and a daughter. He enjoys reading, writing, the great outdoors, good food, playing guitar, martial arts and spending time with people. He is dedicated to inviting others to be friends and followers of Jesus.
Ted holds a Bachelor's degree in English Literature (B.A. (Hons.), University of Waterloo), a Master's degree (M.Div., Regent College) and a Doctorate in Christian Spirituality (D. Min., Fuller Theological Seminary). Ted interned as a pastor at Christ Church of China in Vancouver's Chinatown in 1993 before joining the pastoral team at Lord's Grace Church in 1995 where he served for 12 years.  He was ordained in 2000.  In 2007 he planted Faith Community Christian Church.  Ted has been committed to the spiritual formation and training of pastors for over 20 years through apprenticeship, mentoring and teaching. He has served as an adjunct professor at Carey Theological College.  His interests are in Spiritual Theology, Pastoral Formation, Intercultural Engagement, Next Generation Chinese Ministry and Missional Church Ministry.
E-mail: ted.ng@f3c.ca
---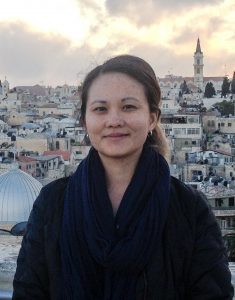 Pastor Diana Gee
Associate Pastor
Diana enjoys reading good stories, working with wood, cooking for friends, dreaming of travel, and admiring the natural beauty of Vancouver . She is trained as a structural engineer (B.Sc. in Civil Engineering, University of Alberta) and has worked with an engineering consulting firm for six years. She has served on projects in India and Dominican Republic with Engineering Ministries International, a non-profit Christian development organization. She has also spent time in the Holy Land, volunteering with the Sisters of Sion and learning to write icons at the Bethlehem Icon School. Diana is learning how to be a follower of Christ as a second-gen, Chinese-Canadian, female Christian and is always looking for co-travelers no matter where they're coming from. She regularly contributes to Asian American Women on Leadership  as a way to explore the intersection between her identity and faith.
Diana completed her master's degree at Regent College (M.Div.) and was the first pastoral intern in F3C's ministry apprenticeship program. She became an associate pastor at F3C in 2011.
E-mail: diana.gee@f3c.ca