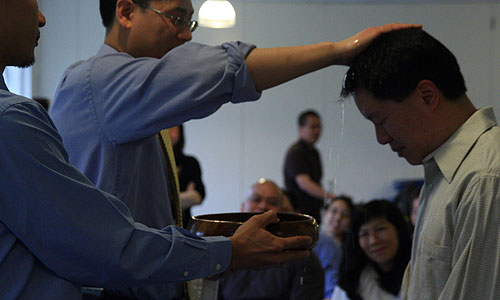 Baptism Signifies Union with Christ
The most important aspect of Baptism is that it is the sign (a visible physical symbol representing an invisible spiritual truth) of ones relationship with God and his kingdom through the saving work of Jesus Christ.
Romans 6:3-4

"Or don't you know that all of us who were baptized into Christ Jesus were baptized into his death? We were therefore buried with him through baptism into death in order that, just as Christ was raised from the dead through the glory of the Father, we too may live a new life."
We recognize the following 3 truths embodied when a person undergoes baptism:
A Sign of Inward Cleansing and Remission of Sins – Your sins are Forgiven.



Acts 22:1

And now what are you waiting for? Get up, be baptized and wash your sins away, calling on his name.


1 Corinthians 6:11
And that is what some of you were. But you were washed, you were sanctified, you were justified in the name of the Lord Jesus Christ and by the Spirit of our God.

A Sign of Regeneration and New Life – You have been transformed and have a new life in God.


Titus 3:5

He saved us, not because of righteous things we had done, but because of his mercy. He saved us through the washing of rebirth and renewal by the Holy Spirit.

A Sign of Gods Promise of being kept in Christ through the Holy Spirit – You  have the Holy Spirit.


1 Corinthians 12:13

For we were all baptized by one Spirit into one body — whether Jews or Greeks, slave or free — and we were all given the one Spirit to drink.


Ephesians 1:13-14

And you also were included in Christ when you heard the word of truth, the gospel of your salvation. Having believed, you were marked in him with a seal, the promised Holy Spirit, who is a deposit guaranteeing our inheritance until the redemption of those who are God's possession — to the praise of his glory.
Important Affirmations
When Should a Person be Baptised?
When a person acknowledges Jesus Christ as their personal Lord and Saviour, they are eligible to receive baptism. We encourage anyone who makes this affirmation to receive baptism. Despite the fact that a person may feel they do not know enough or are not good enough to be baptised, they must be taught that one can NEVER expect to ever be "good enough" or know enough. Baptism and what it represents is completely undeserved. It is by the grace of God alone. We receive it by faith in the promises of God. A baptismal candidate should become a part of the Basic Discipleship Module if they have not already attended for their continued spiritual growth.
Triune Formula
One is baptised into relationship with the triune God in the name of God the Father, God the Son & God the Holy Spirit. We acknowledge no other god. These are the essential words of the baptism.

Matthew 28:19
Therefore go and make disciples of all nations, baptising them in the name of the Father and of the Son and of the Holy Spirit.

Outward Sign Only
Every believer is commanded by Christ to be baptised. Baptism, however, is a sign only; a representation and does not in itself impart any merit in regard to salvation. In other words, baptism by itself has no power to save. A person can be baptised but it has not real spiritual meaning because they do it out of tradition rather than conviction. At the same time, a person who is saved may not be able to receive baptism under extreme circumstances and still be saved. Every believer, however, seeks to receive baptism.
Initiation into Community
A person is baptised into the Kingdom of God represented by a local church community. We also recognise that baptism is sign of initiation into the Church universal that consists of every person who truly acknowledges Jesus Christ as Lord and Saviour and in so doing is in communion with God and all of his people.
Recognized Forms of Baptism
Water is used in baptism in all forms as it is a sign of washing, renewal and sustenance.
Baptism by Full Immersion – This form of baptism is when a persons body is full immersed into the water and then lifted out. It is a good representation of ones death, burial and resurrection with Christ. This form is fully recognized at Faith Community Christian Church.
Baptism by Sprinkling – This form of baptism is when a person has water sprinkled upon them. This form is fully recognized at Faith Community Christian Church.
Infant Baptism – We understand that in certain church traditions people are baptised as infants. In such cases we will recognize these baptisms only if at least one of the persons two parents who presented them for baptism is understood to acknowledge Jesus Christ as their Lord and Saviour. Otherwise, that infant baptism is considered invalid and adult baptism is required. This is not considered re-baptism as the former baptism is invalid. Additionally, if a persons infant baptism is valid, the individual is expected to go through a process of confirmation in which they publicly declare their own conviction and confession that Jesus Christ is their Lord and Saviour. Only then is this form is fully recognized. Faith Community Christian Church does not practice infant baptism but offers the similar rite of infant/child dedication.